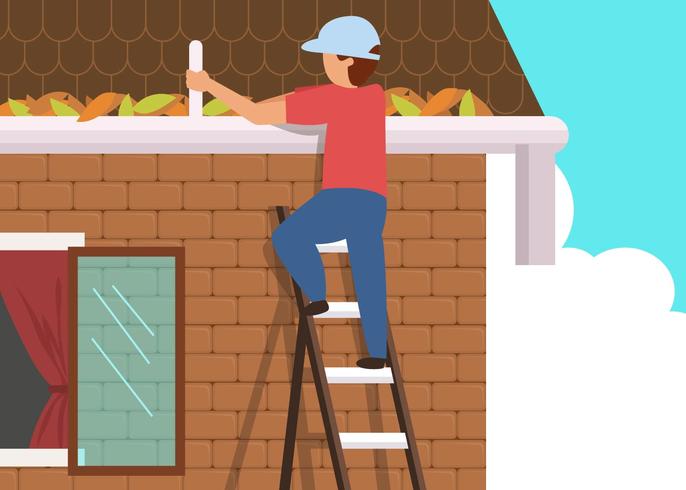 Okay, so this isn't the sexiest topic but maintenance is so critical to well… maintaining the integrity of your property! Some things are more important than others but it can be hard to differentiate what you really need to keep on top of and what you can get away with doing once a year. When something slips through the cracks (maybe literally) year after year there are potential pitfalls lying in wait that could cost you dearly. Let us remind you to not forget about these particular maintenance tasks and hopefully you'll get to save your hard earned money in the end!
Roof and gutter maintenance
Oh, leaves in my gutter? How cute! Fall! Then BOOM, you've got overflowing gutters, foundation damage, and drainage issues. Don't indulge your sentimental side here, leaves in the gutter can cost you a lot of money in the damage they can do! It's easy to forget to do this since you probably don't check out your roof very much. Be sure to to check out your roof too! You can have minor cracks that you probably won't notice if you're not looking for them. They can allow water to slowly enter into your home and cause damage to ceilings and walls which will also rack up the bill! Be sure to spend some quality time with your roof and gutters, your wallet will thank you!

Creepy Crawler Critter Maintenance
Unless you're really alright with raccoons as roommates you might want to listen up. You're careful… it's not like you leave all your doors and windows open all the time and leave out bowls of cat food everywhere (to the people who identify with everything I just said… you might have raccoons). But even not doing those things can set you up with critters if you're not being diligent about safeguarding the rest of your house. It's easy to disregard those venty looking things sticking just slightly off your house but that's exactly where your friendly family of squirrels will climb up in the winter time. Place mesh over vent faces and cover up any access points leading to underneath the house. Save yourself from waking up in the middle of the night to a mouse trying to make a nest in your hair and save yourself from hiring a pest control guy!

Chimney Maintenance
I doubt that chimney cleaners look like Dick Van Dyke in Mary Poppins anymore but nonetheless be sure to step in time and be sure to inspect your chimney and have it cleaned regularly (how about that Mary Poppins reference, huh?)! It'll make it easier for you to spot cracks should the ever appear! If you do happen to find cracks in the bricks of the flue or there are gaps in the mortar on the outside of the chimney between the bricks, your home could be in trouble. This sort of damage could ultimately bring the chimney down on your roof if you're not careful! That's why regular maintenance and inspection is so important!