Did you know in Iceland books are exchanged as Christmas Eve presents? After opening their presents they spend the rest of the evening in bed reading and eating chocolate!
Well, I couldn't pick just one book to share with you, so I have narrowed it down to 12.  One book for each night for the kids to unwrap and read.  By the time Christmas Eve arrives they will have a quite a stack to read through. Each year you can  re- wrap the same books or you can add new books to your Christmas collection.
"The story of Jesus' birth in that Bethlehem manager is told in this sweet tale from the perspective of the animals."
Age Range 2-8 
How the Grinch Stole Christmas
"No Christmas season is complete without the Grinch and all of the Whos in Whoville who help him find the true meaning of Christmas."
Age Range 5-9 
Christmas Love Letters from God 
"The book includes seven stories, beginning with Isaiah's prophecy and ending with the visit of the wise men. Following each story, the child will find his or her own letter from God, folded into a small envelope attached to the page."
Age Range 4-8
"Sam's Christmas Wish is a story of love, service, and sacrifice. It is one man's realization that Christmas is not just an event, but a spirit that can transform the lives of many."
Age Range  8 +
"For those who want to stress that Jesus is the reason for the Christmas season, The Tale of Three Trees is a perfect pick."
Age Range 3-5
"The book brings you the story of how Santa came to be. A wonderful way to teach my children that Santa Clause and Christmas is more than expecting the next big toy. If you are a fan of The Polar Express, and T'was the Night Before Christmas, you will love The Gift Giver."
Age Range 4+

"This enchanting tale provides the perfect opportunity to help young children celebrate the true meaning of Christmas and to discover how very much God loves them."
Age Range 3-7
"It tells the tale of one boy who is whisked away by Santa Claus on Christmas Eve."
Age Range 4+
"We've all heard the story of the three wise men who brought their gifts to Baby Jesus. But what about the camels who carried them?  It tells the story of the birth of Jesus with humor and a sense of wonder and awe."
Age Range 4+
 "An old pine tree never gets selected by families at the Christmas tree farm and all he wants is to be someone's special tree. It is a wonderful story of acceptance, love. kindness, friendship, and JOY. "
Age Range 0-6
"Adorable story about what's boy dreams snowmen do to celebrate Christmas while we are sleeping."
Age Range 3-7
 "Because Joshua couldn't go with his friends, "he was the first to welcome Jesus into the world." He gave Jesus an incredible comforting gift – you have to read it to found out what!"
Age Range 3-7
This tradition is
super fun the kids really looking forward to opening one book each day leading up the Christmas Day!
My husband and I do not have any "little ones" at home anymore, but I have decided to start a "Christmas Book Basket". I plan to buy 3 of each Christmas book, one to keep at our house, one for daughter's family and  and one for our son's future family.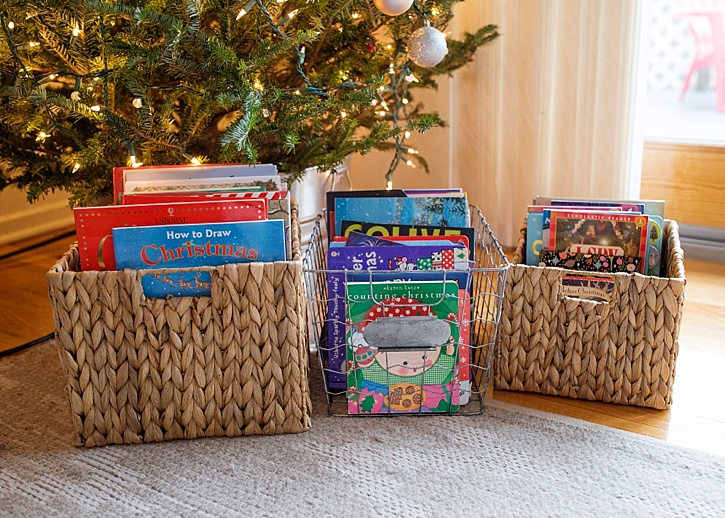 What are some of your favorite children's Christmas books?